Editor's Blog – Safety at sea and in the pool
Watersports are fun but can be dangerous. Wearable electronic devices can help rescue teams find people in trouble in the water, says Caroline Hayes
Testing the AppTrakk. Picture: Maja Baska
Activity trackers are expected to drive the wearables market. Research by ABI Research indicates that shipments will rise to 105 million by 2027, from 91.5 million in 2022, a CAGR of 2.9 per cent. This is an all-encompassing group of smartwatches and activity trackers used by cyclists, joggers and runners, athletes, gym users and swimmers.
Typically cellular connectivity is minimal but this is expected to be a growth area for smartwatches in particular as designs move towards 5G Advanced and the emergence of 5G reduced capability (RedCap) NR (New Radio) user equipment for products which require less bandwidth than 5G NR products.
For wider water sports, there have been some interesting developments in wearable devices, for safety rather than for performance tracking.
AI data for sea searches
An interesting research is the AppTrakk wrist device, developed at Macquarie University, Australia which sends an alert if the wearer is drowning. The researchers have incorporated sensors that monitor the wearer's heart rate, blood oxygen levels, water depth, submersion time and movement as well as the depth at which it's currently located and the amount of time that it's been there.
All of this data is continually processed by an AI-based onboard operating system, which determines if the combined readings indicate that the person may be drowning to a lifeguard station or other control centre, together with details of the wearer's location.
"A surprisingly high number of people who drown are good swimmers," says Dr Mohsen Asadnia, associate professor at Macquarie University's School of Engineering.
The AppTrakk can be tailored to suit the conditions, for example swimming pools as well as oceans.
Regardless of the location, drowning can be silent which is why it can be hard to track people in trouble. Swimmers can use most of their energy trying to keep their heads above water, and if they panic as water gets into their airways, may be unable to call or signal for help.
Other swimmers or lifeguards may not see a person is drowning unless they are struggling but they can sink below the water in 20 to 60 seconds, which is a small window for lifeguards or rescue teams who may be looking for someone missing out at sea.
The research has been partly funded by the Smile Like Drake Foundation, established by the Drake family to develop and promote water safety solutions, in memory of 23-year old law student and former professional surfer Christopher Drake who drowned in 2013 when he was thrown into rough seas but a freak wave while helping others. Rescue teams were not able to recover this body for five days.
Man overboard
For yachties, tracking is equally important and there are personal marine devices for crew and passengers too. The first that caught my eye is the 1st Mate System. This is up to eight wristband fobs for a boat's captain and seven passengers. Each connects to a mobile app that monitors the wearer's status and location.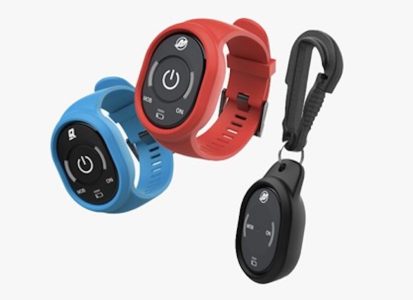 1st Mate fobs can be attached or integrated into a wrist strap.
The fob integrates directly into the craft's propulsion system so if the captain falls overboard, the first mate will detect when the fob is submerged and automatically stop the boat's engine. The fob also sounds an alarm and sends an alert to emergency contacts via the mobile app. The app also alerts the captain if one of the passengers falls overboard, with an alert and a GPS location.
In the event of anyone falling overboard, the 1st Mate Marine Rescue device can send a distress message to the wearer's emergency contacts. The message will include important information such as the location, heading, date, and time of the overboard event. Distress messages can be set to auto-send either after a certain amount of time has elapsed or if a fob triggers an SOS message.
1st Mate points out that the rescue device does not replace safety lanyards, personal flotation devices, or personal locator beacons, but it does provide an additional layer of security.