Healthcare becomes stretched – in a good way
Stretchable electronics could revolutionise healthcare and fitness, as sensors and monitors can be integrated instead of 'tacked' on to clothing, or applied directly to the skin, for convenience and comfort. By Caroline Hayes
Mechanical flexibility in electronics seems contrary to everything we know about chip design and boards. For the wearable market, however, the ability to integrate electronics into the fabric of garment, that stretch with the wearer's movements, will liberate the sensor and monitoring technology.
The term stretchable electronics encompasses interconnects, conductive inks for circuitry and sensors, and processes such as in-mould electronics (IME) where the electronics element is in a thermoformed product, and materials, such as stretchable polymers, transparent conductive films, stretchable batteries, energy harvesting and displays.
According to IDTechEx Research, the stretchable electronics market will be worth $600million by 2027, with many of the innovations driving growth expected in the next three to four years.
Sensors can be used to capture data for medical, fitness and sports applications. They can also be used in virtual reality development, where the movement of a limb, or finger, can be tracked in real-time.
New Zealand company, StretchSense, has developed flexible sensors that measure pressure, that stretch and bend and which can be woven into fabrics. Based on electroactive polymer technology, the stretch sensors are soft and flexible strips of silicone. When stretched, these capacitors provide the repeatable motion data. They can be used to monitor respiratory rate and measure the movement of muscle groups. They can also be used to track the motion of fingers for virtual reality and robotics.
StretchSense's flexible sensors provide repeatable motion data.
The company's Energy Harvesting Kit uses kinetic energy to harvest power to support the sensors. It uses a compression mode soft generator that
generates 1.0mW when compressed. At the moment, it can only be used in some applications, as it relies on constant movement, to apply the compression required to generate energy. Monitoring in healthcare, especially rehabilitation, as well as sports management, are obvious examples, where the sensors could be used to send real-time data to improve or track the wearer's performance.
The company has received funding from StartToday, which owns Japan's largest online fashion retailer, Zozotown. The press release says that the new partnership hopes to produce affordable wearable garments, or make data available for third-party developers to access.
Also in Japan, Bando Chemical Industries, which has an automotive, an industrial and an elastomer polymer division, has worked with Kobe University to prototype how its C-Stretch, stretchable strain sensor can be used in medical measurement applications.
Bando has collaborated with Kobe University, Japan, to explore how to use its flexible sensor in monitoring equipment.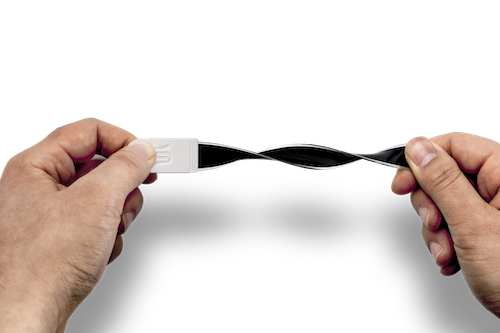 Combining technologies, Bando has used Bando combines an elastomer compound, and used dispersion and film processing technologies to create the sensor which stretches to detect the level of elongation.
Incorporated into thin belts or straps, it can be used to detect elongation, for example to measure the laryngeal movement when swallowing, or to detect the respiration rate during physical exercises, measuring the breathing motion of the abdomen and ribcage. Tests conducted with Bando and Kobe University found that the detected error rate was ±3 bpm (beats per minute).
The strain sensor has low hysteresis making it possible to perform measurements with high repeatability, showing linearity from low to high strain, says Bando.
For development and evaluation, Bando's C-Stretch kit BT01 includes the sensor element, a four-channel transmitter, software that is Windows 7, 8.1 and 10 –compatible, and input and output cables.
The mix of commercial applications, from virtual reality to health and fitness monitoring, to industrial robotics and medical monitoring and equipment, could prove to be the right blend to progress innovative design and collaboration to make stretchable electronics a mainstream market sooner, rather than later.
---
WEARTECHDESIGN.COM – Latest News/Advice on Technology for Wearable Devices
Weartechdesign is unlike any other website currently serving the technology
for wearable devices. We carry the very latest news for design engineers and purchasers.
Register on our mailing list to receive regular updates and offers from
WearTechDesign