Editors Blog – Tickets, please!
Instead of a wallet touching a contactless payment terminal, the future could be smartwatches, rings and bracelets that let the wearer pay as you go, proposes Caroline Hayes
Deed's get bracelet uses bone conduction technology and Infineon's SECORA platform.
The adoption of contactless payment has accelerated as a result of the Covid-19 pandemic, as consumers and retail staff look to minimise contact and slow the spread of infection through paper money and coins that are passed from person to person.
According to Thomas Michalski, senior manager of product marketing payment at Infineon Technologies, wearable devices are "functionally rich, capable of delivering end-user convenience long into the future". Commuters could use smartwatches, bracelets or rings to access barriers in public transport but they must be confident that payment details are secure. Equally, the transport services must be assured that its security is not compromised by enabling payment from wearable devices based on different operating systems.
"Wearable manufacturers want their products to work everywhere, not just on proprietary systems. Customers are the same: no matter which city they are in, they want a simple, convenient and well-secured payment experience. NFC technology is built into many wearable devices and gives users the near-instant ability to pay contactlessly via a registered EMV chip card," explains Michalski.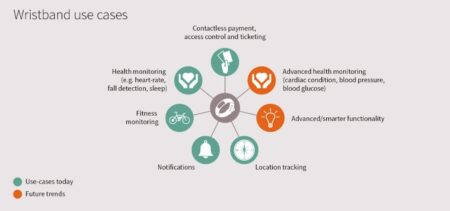 Uses for smart wristbands. Image: Infineon Technologies.
He believes the time for paper and plastic tickets in public transportation is over. He advocates EMV payments, alongside open standard technologies from CIPURSE and Calypso, which enable tap-and-go payments and account-based ticketing. Not only is this environmentally friendly, saving on paper production and waste, but it can be universal. When based on open standards, wearable ticketing can be integrated to work in different cities and countries and across different modes of transport – bus, train, tram in different regions. For this wearable ticketing has to be based on open standard which can integrated loyalty services, for example.
Security Issues
To ensure consumers' bank accounts are protected and to maintain the integrity of a transport computing system, hardware-based security mechanisms featuring embedded secure elements (eSE) are likely to be introduced. Secure elements will protect the considerable data streams resulting from digital and IoT transactions, safeguard payment transactions and protect the identity and integrity of end users.
There will also need to be security through encryption and adaptability to operate with different transport networks and companies.
Infineon has developed the SECORA Connect platform to embed NFC into smart wearables for contactless, secured payment. By securely provisioning and storing multiple credentials (such a train ticket or pass) which can be selected and used around the transport system.
Typically, wearables need an antenna for connectivity. A smartwatch, for example relies on a battery driven micro antenna and internet connectivity. Other items, like rings need a contactless security controller such as an ISO14443 small antenna. Infineon says that SECORA allows designers to develop wearable devices even if they have no security or antenna design experience. The antenna in a wearable device obtains power from the communication field of an NFC terminal, enabling the semiconductor initiate a payment or execute validation.
Passengers can tap the wearable device on their finger or wrist, to pass through terminal gates, unlock hire bicycles or board a bus even if the device's battery dies because if operates on NFC which relies on NFC readers to read contactless cards can read these devices, so nothing additional is required.
The SECORA platform consists of Pay S, for EMV, SECORA Pay X for multi-application payment cards with the possibility to integrate transit applications based on the CIPURSE open standard and SECORA Pay W, which supports EMV on non-connected, passive wearables or payment accessories.
For accessibility, Infineon advocates migration from 90 to 65nm technology to increase contactless transaction speeds by 25 to 65 per cent, integrated antennae as well as the integration of tiny active NFC components in wearables to address power consumption. Infineon says its boosted NFC component for connected wearables is 80 per cent smaller than comparable NFC solutions currently available. The package, with an integrated antenna measures 4.0 x 4.0mm.
Companies like San Francisco-based Purewrist and Italian start up Deed are developing bracelets that can be used for contactless payment. The eponymous Purewrist is available in different colours and Deed's get bracelet uses bone-conduction technology for wrist gestures, biometric information, connectivity to smart devices and other functions. It uses SECORA Connect for payments but also has motion sensors with AI for gesture recognition to receive calls as well as make payments. The lightweight, water-resistant bracelet is based on a rigid-flex PCB encased in multiple layers of high-tech fabrics.
The Fraunhofer Institute's RFID ring.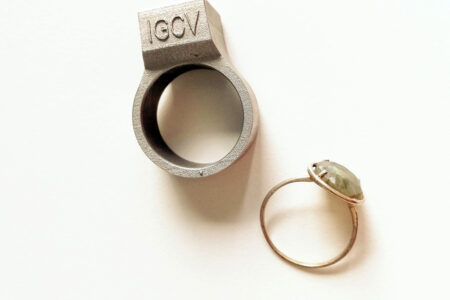 Researchers at Fraunhofer Institute for Casting, Composite and Processing Technology IGCV are even more ambitious and have developed an – albeit clunky-looking – ring for contactless payments.
The prototype was created using 3D printing and has an integrated RFID chip for payments, access to buildings, or to store medical data such as blood type or intolerances.
The top of the ring is just 1mm thick so transmission of the RFID signals are unencumbered.
Like the bracelets the ring can also be used to open electronic door locks in office buildings or hotels.