Editors Blog – The weartech industry shapes up for sporting success
Wearable technology for sports can do more than record than record performance stats, of how far, how fast but can correct gait and style and alert them before injury strikes, writes Caroline Hayes
Next year, Tokyo will host the Olympics and the world will be gripped by the sporting prowess of nations and individuals for two weeks next summer. Winning an Olympic medal brings glory and pride and vindication of years of training, dedication and sacrifice. Making sure an athlete reaches their potential is the goal of coaches and managers at school, county and international level.
The wearable technology (weartech) for athletes industry is worth $2.8 billion today, up from $2 billion in 2018. Its scope goes far beyond monitoring heart rate while exercising. It encompasses intelligent data analysis that can improve performance but also indicate early signs of injury or health issues.
Don't sweat it
Some interesting developments have been from North America. For example, the wearable patch developed by Kenzen that analyses the wearer's sweat to assess fitness levels. It can determine levels of glucose, hydration and electrolyte. This is beyond what a heart rate monitor can achieve, explains the company, as these parameters indicate the level of fitness and how the body is reacting to stress.
Figure 1: The Eco Smart Patch analyses a drop sweat to provide predictive data for sports and training (Picture credit: Kenzen)
The adhesive biosensor, the Eco Smart Patch (Figure 1) can provide real-time analysis from a single drop of perspiration to diagnose electrolyte balance, lactate and glucose levels based start-up Kenzen is developing a new peel-and-stick wearable sensor that will evaluate the content of sweat to provide a predictive analysis of your fitness and health.
The Kenzen biosensor, named the Eco Smart Patch, is designed to be worn 24/7 and will provide real-time analysis from a single drop of sweat – monitoring hydration levels, checking electrolyte balance – to ensure the body's systems are functioning correctly and lactate blood levels – an imbalance can be caused by circulatory problems. Worn on the torso, the sensor is connected via Bluetooth to a smartphone app which sends an alert when the levels monitored reach pre-determined critical levels.
When the data is analysed, environmental factors, such as temperature and humidity are taken into account so that the wearer knows, for example, not just to hydrate but what electrolytes need to be replaced.
Kenzen partnered with its home football team, the San Francisco 49ers, whose players used the device in training.
GPS and the 40-yard line
Partnership with professional sports teams has been a key part of developing weartech. The Florida State University football team, Florida State Seminoles, rose up the league, as the team improved its performance and reduced pulled muscle, muscle strains and other soft tissue injuries by 88 per cent, when it adapted GPS monitors supplied by Australian technology company, Catapult Sports. Straps across the players' chests were reprogrammed from Australian rules football to measure American football metrics.
The players were able to record dash times and receive immediate feedback on their on-pitch performances, leading to a new running practice and changed the training programme to reduce mid-week sessions so that the team was on top form for Saturdays.
Making a splash
Mud and sweat are part and parcel of some sports but developing reliable monitoring technology that can still operate when immersed in water is another hurdle altogether – if you will forgive me mixing my sporting metaphors!
How to monitor the speed and style of a swimmer is another challenge altogether. Canadian company, TritonWear has developed the waterproof Triton 2 which can be worn under the swimmer's swimming cap which goes one better than watches that track the number of lengths completed – this use artificial intelligence (AI).
It can track 13 metrics simultaneously and transmit that data in real-time to an app on the coach's smartphone (Figure 2).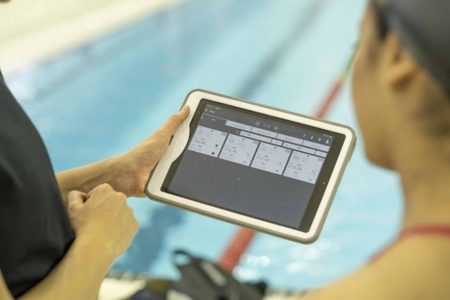 Figure 2: The Triton 2's inertial measurement unit tracks a swimmer's style and technique. (Picture credit: TritronWear)
The inertial measurement unit (IMU) combines an accelerometer and gyroscope to track stroke type, average speed per length, stroke rate, distance per stroke, time underwater and number of breaths per length. This data is recorded and displayed on the app on a mobile device and can be processed by AI-based algorithms. TritonWear says that these algorithms were developed in collaboration with coaches to not only ensure relevant data is gathered but that it can be analysed to provide suggestions for improvement or to avoid injury. TritonWear reports that automated load monitoring can keep the risk of injury during training to below five per cent.
A video of the swimmer in action, taken on the same mobile device can be synchronised with the performance analytics allowing the swimmer to see where errors may lie. By tracking training, in terms of volume and intensity, the swimmer can monitor load changes over time, receive alerts for injury risks and amend their training programme to safe in proscribed 'safe zones'.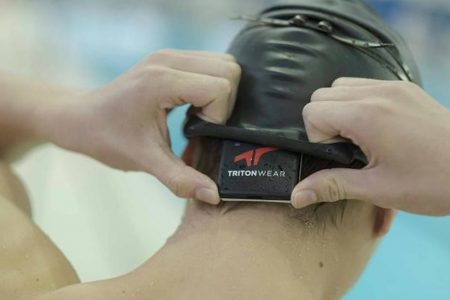 Picture credit: TritonWear
This second generation weartech device's firmware, Triton v1.1.19 has been updated with algorithms to recognise a dive-start, improvements to accuracy and timing, increased rejection of false starts, detected from stepping onto starting block, more accurate capture of repetition ends to increase timing accuracy and auto-calibration of sensors when the device is still for four to 10 seconds.