Editors Blog – That outfit really says something about you
Bringing a new meaning to wearing a loud shirt, fabric that is woven to create a flexible display holds the promise for many creative and practical clothing designs for healthcare and retail use, suggests Caroline Hayes.
Nearly 10 years ago, to launch the EE 4G network in the UK in 2012, singer Nicole Scherzinger wore the 'Tweet dress' (Figure 1). This electronic take on the LBD (little black dress) by technology-fashion house Cute Circuit was embedded with 2,000 LED lights and 3,000 Swarovski crystals. It, rather unnervingly, displayed tweets from and about the event during the launch party. The ability to thread the LED lights into the dress was impressive but it was still applying components to the fabric rather than embedding them into the structure of the dress itself. It certainly set people thinking what could be achieved to take popular slogan T-shirts and the like to the next level.
Figure 1: Nicole Scherzinger in "that dress". Picture credit – CuteCircuit
Research at Fudan University in Shangahi, China, has produced a breathable fabric that is a flexible, large area display, creating the possibility of clothing that can be used for navigation and information services used by the wearer, as well as clothing to display messages, directions and other pieces of information.
The fabric display was created using conductive and luminescent fibres by a team led by Professor Huisheng Peng, at the university's Department of Macromolecular Engineering. The researchers wove conductive fibres and luminescent fibres – measuring between 0.2 and 0.5mm thick – with cotton to create a fabric that measured 6m long and 250mm wide – or approximately 20 feet x 10 inches (Figure 2). Where the conductive fibres and luminescent fibres meet in the woven fabric, illuminated electroluminescent points are created to produce around 500,000 pixels, spaced about 800 microns apart. The fabric images are reported to be a similar brightness as a typical flat screen TV.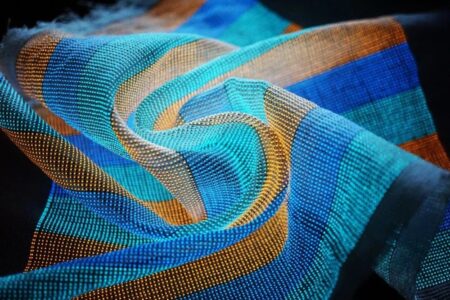 Figure 2: The fabric display was created by weaving cotton with <0.5mm conductive and luminescent fibres. Picture credit – Fudan University
Solid-state displays may be bendable, some are even rollable, but the level of flexibility of fabric opens up more options for displays that can be worn, even fitted. The breathable, durable fabric created at Fudan can be integrated with a touch-sensitive keyboard and power supply (less than 36V is required). A power supply that harvest solar energy is also possible, extending the use of the fabric even further.
Blue fibres – other colours are available – were woven onto a shirt and glowed when activated by a power source. (Figure 3).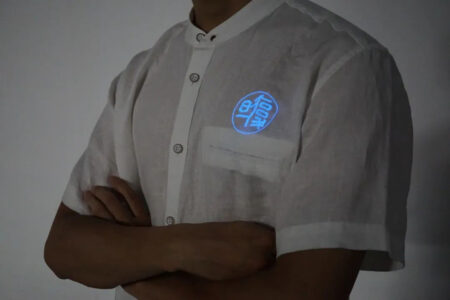 Figure 3: The logo of Fudan University is woven onto a shirt. Picture credit – Fudan University
The fabric as a display can be used in clothing, for example, sending and receiving texts via a Bluetooth connected phone.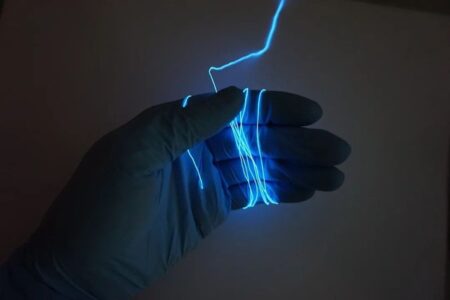 Figure 4: The weft and warp of the fabric creating electroluminescent junctions. Picture credit – Fudan University
There are various applications for the fabric, such as a navigation tool that displays an interactive map or a communications tool that can send or retrieve messages via a Bluetooth connection with a smartphone. Electroluminescent points, making up a display, are created at the points where the conductive (horizontal or weft) fibres and luminescent (vertical or warp) fibres meet at contact points in the woven fabric. The small diameter of the light-emitting fibre allows fine weaving for a flexible fabric that can be shaped and fitted into breathable garments, like motorbike protective gear which can display maps and routes on the sleeve, for example.
The researchers noted their prototype was also significantly more durable than conventional thin-film flexible displays, making it more suitable for practical use. It underwent 1,000 cycles of bending, stretching and pressing, after which "vast majority of electroluminescent units" had a stable performance. The electroluminescent brightness also remained stable after 100 wash and drying cycles.
As well as for bike riders, clothing with displays could be used by those with voice or speec impediments or for wearers to express themselves in a foreign language, using Bluetooth-enabled smartphone language apps.
Other healthcare applications could be to monitor volunteers wearing headsets that read brain waves. One experiment transmitted data to a computer linked to the fabric which displayed either "relaxed" or "anxious" as the volunteers performed different tasks. This could be used by children suffering with autism for example, to help parents, teachers and carers meet their needs without verbal intervention.
One suggestion was that it could be used with devices that can decode complex brain waves to display messages for those who may not be able to speak in certain circumstances.
The textile displays were reported by Professor Pend in Nature journal and Inside Science.