Editor's Blog – Technology fills the audio void
Audio technology is becoming more sophisticated – it is no longer a case of channelling sound through headphones, but spatial awareness and 3D audio improve the listening experience. Caroline Hayes finds two projects that are making (sound) waves in headphone design.
High quality headphones are sought after because they block out external noise but in some circumstances this can be dangerous. For example, wearing headphones when crossing the road, the wearer may not be able to detect noise from people or vehicles approaching.
Researchers at the University of Ulm, Germany have developed a filter for headphones which allows users to distinguish external sounds and the direction from which they are coming. It helps locate external sound sources, as well as general noises, in the vertical plane. It can locate an acoustic object and helps the headphone wearer determine if it is coming from in front or from behind.
The filter element is arranged around the microphone input on the outside of the headphones and reduces sound ambiguities from different directions, regardless of their spectral composition, according to the research team.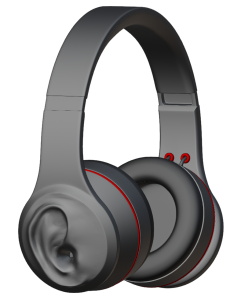 An artist's impression of headphones designed with the filter developed by University of Ulm.
The outside of the filter element works in the same way has the human ear but uses structures which are shaped to change external sound into its spectral composition. This allows spatially dependent frequency modulations to occur and produces head-related transfer functions (HRTFs) to locate the sound source in the vertical plane and resolve the ambiguities that arise from horizontal localisation characteristics to locate auditory objects.
As well as in the ear pad for over the ear headphones, the filters can be incorporated into headsets, ear buds and bone conduction headphones which conduct sound to the inner ear.
Technologie-Lizenz-Büro (TLB) is helping the university and Baden-Württemberg Foundation patent the filter across Europe.
Another interesting collaboration is between Ceva, Beken and VisiSonics, resulting in a 3D audio reference design for headsets and ear buds which support spatial audio. Spatial audio is used in gaming, multimedia applications and conference audio for a more immersive experience.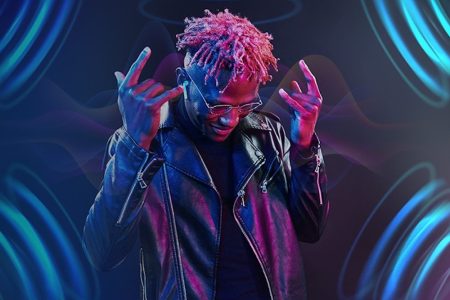 The 3D audio reference design allows even TWS ear buds to deliver spatial audio for an immersive audio experience. (Picture: Ceva)
Ceva licenses wireless and smart sensing intellectual property (IP), Beken specialises in wireless communication and VisiSonics develops 3D spatial audio technologies. The three companies have developed a 3D audio reference design to develop headsets and true wireless stereo (TWS) ear buds. The reference design uses Beken's BK3288X Bluetooth audio SoC series in which Ceva's X2 Audio DSP runs VisiSonics' RealSpace 3D audio software with Ceva's MotionEngine Hear head tracking algorithms.
The reference design can be used to finalise a 'ready-to-deploy' SoC which can be used with an audio encoding format for 3D audio hearing in virtual reality and augmented reality (VR, AR) as well as in motion-aware earbuds.
"Spatial audio is an incredibly hot market right now, as the Android and PC ecosystems look to build on the industry momentum behind its use in music and gaming to create immersive audio experiences," said Moshe Sheier, vice president of marketing at Ceva.
Using a single chip in the headset eliminates the need for a 3D audio rendering engine on the host device. As well as reducing costs, this also lowers latency.
Dr. Ramani Duraiswami, CEO, VisiSonics, said "Our joint reference design offers consumer electronics OEMs and ODMs a complete hardware and software solution to add 3D spatial audio to their product line of headsets and TWS earbuds."