Editor's Blog – Tech takes a hard-headed approach
Helmets are not the most fashion forward headgear but they can be lifesavers. This month we look at some advances which brings extra intelligence to motorcyclists, firefighters and brings music to the ski slopes. By Caroline Hayes
As we are coming into ski season, we will practise our snow plough and other moves with music to accompany manoeuvres, courtesy of Italian company, Kask, which has launched the Piuma-R helmet, with Vibes, the integrated bone-conduction audio system as an option.
Vibes also allows skiers to make and receive calls. This and listening to a playlist are all executed through simple voice commands, explains Kast, for safe ski-ing – or après-ski activities!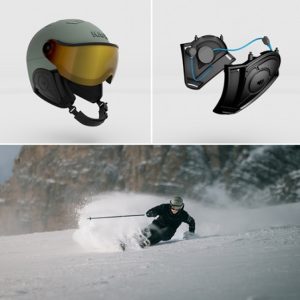 It's all downhill for other helmets as Kast integrates Piuma-R helmets with Vibes bone conduction technology is equipped with Bluetooth 5.2 Conference technology which is compatible with a selection of devices, from smartphones to tablets. The technology is near-onmi-present and makes it possible to easily re-establish the connection whenever it is lost, says Kast.
For greater voice clarity, Piuma-R Vibes has a windproof directional microphone that cancels out any interference caused by movement or the wind as the skier descends or is at high altitudes.
The helmet is resistant to dust and strong jets of water from any direction and has a battery life of over eight hours (continuous use) although this can vary depending on the external temperature. Battery life can be up to 17 hours if used for calls alone, up to 20 hours if used for music and has a standby time of 625 hours.
The helmet is designed with a wide field of vision and an integrated visor which can be removed and changed. Another feature is the integrated active ventilation system. This is operated by a lever at the back of the helmet to adjust airflow within the shell of the helmet.
The helmet is available in 13 sizes from 510 to 630mm circumference. There Piuma-R collection includes Chrome, Firefly, Elite, Class Sport, Shadow, Montecarlo and Treasure models.
Motorcycle helmet with AI
Another helmet design, this one for motorcyclists is the US start-up Intelligent Cranium Helmets, which is developing four smart motorcycle helmets. Smart helmets have been around for some time with LEDs which provide signals and alerts but Intelligent Cranium Helmet's iC-R models differ with the introduction of AI, situational awareness and/or blindspot elimination (according to the model). All offer hands-free control and functionality.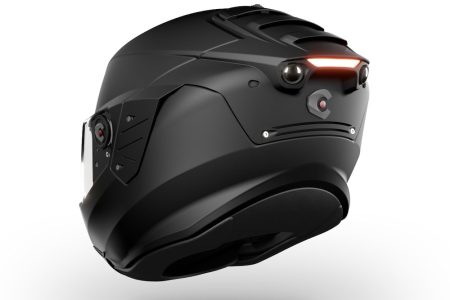 Artist impression of the iC-R helmet being developed by Intelligent Cranium Helmets.
The helmet is designed with a 1080pixel colour heads up display (HUD) which shows rear field of view and navigation information. The dual rear cameras are stitched together to feed a 240 degree field of view at 60 frames per second to the HUD. There is also a front camera which can simultaneously record audio for live streaming on demand.
The AI relies on dual time of flight proximity sensors which provide situational awareness alerts, explains the company.
The visor uses instant tinting technology whereby the visor instantly changes tint, rather than a delay of up to 60 seconds. Rider comfort is also enhanced with a respiratory filter which blocks up particulates.
End to end encrypted rider to rider communication is possible, with unlimited range, says Intelligent Cranium Helmets. For security, a GPS tracker is embedded to locate the helmet if it is stolen or misplaced.
A custom mobile app provides access to helmet stats and news updates, rider contacts, texts with end to end encryption and the ability to create custom rider to rider comms channels.
Feeding firefighters info
The design emphasis us on safety for an AI-empowered helmet developed by the robotics and AI centre, National Robotarium, at Heriot-Watt University and the University of Edinburgh. Researchers collaborated with teams-up with Scottish Fire and Rescue Service to develop on AI-empowered smart helmet that helps firefighters better locate victims
A standard issue firefighter's helmet was equipped with thermal cameras, radar and inertial sensors to provide real-time information that can detect victims in hard-to-see conditions, recognise fellow firefighters and provide accurate information about their surroundings.
Dr Chris Lu, Lecturer in cyber-physical systems in the School of Informatics at the University of Edinburgh led the project. He said: "Firefighters often operate in environments with very low or no visibility due to the vast amount of smoke released from a fire. This can make detecting the location of potential victims and whereabouts of firefighters very challenging in situations that are often extremely time-sensitive.
"This new technology has the potential to support on-the-ground firefighters and scene commanders to make crucial in-the-moment decisions that can enhance search rescue efficiency, ensure safer collaboration between teammates and, most importantly, improve outcomes for potential victims of fire scenes".
The sensor rig weighs less than 1kg and uses affordable, off-the-shelf components that can be easily retrofitted to existing standard-issue firefighting helmets.
Developmental field trials took place last year at the Scottish Fire and Rescue Service training facility in Newbridge, Edinburgh.
The project was funded by the Scottish Informatics and Computer Science Alliance (SICSA) and the Scottish Funding Council's SFC Saltire scheme, and the University of Edinburgh.
The next stage of development is to add the ability to generate 3D maps and an embedded display to extend spatial awareness.