Editors Blog – Graphene turns up the audio to 11
Whether listening to speech radio, light music or heavy rock, like Spinal Tap pioneered, Ora's GrapheneQ (GQ) headphones bring the benefits of this nanomaterial to consumer audio, discovers Caroline Hayes
Graphene, the 'super material' that is thin, lightweight, strong yet flexible has been touted as a prime use case for the diaphragm in headphones for some time. The rigid membrane material would allow a thinner and less dense diaphragm which contributes to the flat frequency response which enhances audibility to the human ear. If the speaker or headphone diaphragm has less mass and spring, ambient air can be used to flatten the response so that input energy is converted to a sound wave to make the speaker or headphones more energy-efficient. In conventional diaphragm design, the thinner, lower mass density models have proved too fragile for effective use. Graphene's structure however, makes it 'super-rigid' and its electrical conductivity allows it to be formed into a thin, small mass density for optimum audibility. The industry has shied away from this because of the expense of graphene.
Now, Canadian company, Ora Graphene Audio, has introduced a hybrid graphene technology to make graphene commercially viable in consumer headphones. Its GrapheneQ is an oxide compound that deposits flakes of graphene into thousands of layers that are bonded together to produce a compound that is 95 per cent graphene by weight and which is "highly malleable, which makes it comparatively easy to mass produce". The frequency response in the GQ headphones is claimed to be comparable to that of a high-end membrane that costs up to 10 times the price of GrapheneQ.
It's all about the bass
When I was asked to review a pair of Ora's GQ headphones I was sceptical – how much difference can GrapheneQ make? The answer is as clear as a bell; it's a lot. I am not an audio specialist, but Ora does have some interesting stats on how the diaphragm has more bass to enhance the low end of the sonic signature. The mid-range is also biased towards the bass, and a dip at 6 to 8kHz to produce a 'warmer', less harsh sound.
GraphenQ can also produce more energy at higher frequencies than standard headphone drivers.
"By producing a GrapheneQ driver with a smoother response and less roll-off, the high frequencies produced are more pleasant to listen to, allowing Ora to provide much more detail, better localisation and improved imaging," says the company.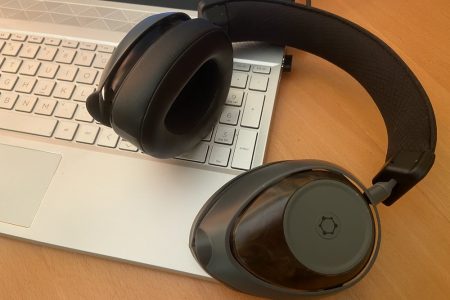 That just about covers my 'expertise' in audio technology but I was able to appreciate the clarity of sound and the aesthetics of the GQ headphones. They are reassuring sturdy but lightweight and the cans fit comfortably over the ear. They are padded and comfortable to wear and I like the bird's eye maple effect, adding a touch of refined gravitas, even if I was listening to some unrefined music choices! Being a caring, sharing type of editor, I offered them to other family members and the younger ones (in their 20s) were impressed with the audio clarity and the light weight.
The look of the sound
The design has not skimped on materials, with a sturdy, adjustable headband covered in leather. The cans also rotate so that they can be stored flat, so although large to completely enclose the ears, they are not cumbersome to store. Power on and off is the small button in the logo on the can. The other controls functionality. This is such a clever, neat design! And so much more practical than the pushbuttons on the side of a can that I am used to. (I always misjudge where my finger is and increase the volume when I want to pause.) With GQ, it is a light sweep up or down to control the volume and an equally light sweep left or right for playing the next track.
Power efficiency
Bluetooth wireless connection is a given, although there is also a removable 3.5mm cable to connect the headphones to a PC or other USB-C device. There is a microphone for hands-free phone calls. I received the headphones with no power, but they were quickly full charged. I wasn't very scientific, I'm afraid, I plugged them in to charge and got distracted but they were fully charged in less time than it takes to watch Law & Order, if that helps! Another bonus of using a graphene compound is that the battery life is long. I didn't have to recharge once, and I was using them while walking the dog every day and whenever I wanted to block out the dubious music choices of some of the other reviewers I mentioned earlier in this piece who were home all over the Christmas and New Year period. It was so liberating not just from wires but not to have the earphone equivalent of range anxiety when all you want to do it tune in and zone out!
"The purpose of these headphones is to showcase the graphene technology and the levels of sound quality it produces," revealed Ari Pinkas, Ora's co-founder. "We are working closely with big consumer electronic brands trying to get our technology in their next-gen devices: cellphones, laptops, TVs etc," he added.
With these headphones as verification of the use of graphene in high-end consumer audio products, there is the potential to use the same technology in smartphone speakers, virtual reality headsets and automotive speakers.
Judging by this performance – may the beat go on!