Editors Blog – Finalist choice is music to our chest
One of the finalist in the UNESCO Netexplo Forum lets deaf people feel music to become immersed in performances, writes Caroline Hayes
Among the winners of the Netexplo Awards at the Innovation Forum which took place at UNESCO last month was the SoundShirt, developed by interactive London fashion house, CuteCircuit, in conjunction with the Junge Symphoniker Hamburg orchestra.
CuteCircuit was founded in 2004 by former Valentino designer, Francesca Rosella and Ryan Genz, who was a fellow student at the Interaction Design Institute Ivrea (IDII), the Italian research institute for interaction design.
The long sleeved shirt (Figure 1) can be worn by hearing-impaired audience members to let them feel music through the connected garment.
Figure 1: The SoundShirt by CuteCircuit (Picture: CuteCircuit)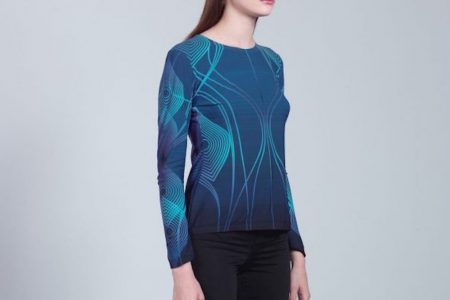 Using haptic technology, the shirt has 16 micro-actuators embedded in the SoundShirt. Microphones around and behind the orchestra can pick up eight different instrument types. The musical sounds are translated into data by software and sent wirelessly to actuators in the shirt – all in real time. Each instrument is tuned to actuators on particular parts of the shirt, so the wearer can feel violins or drums on that part of their body. (See Figure 2) It creates, says CuteCircuit, an immersive feeling for a deaf audience member.
Figure 2: Diagram showing where microphones are placed to relay music to actuators on the SoundShirt. (Picture: CuteCircuit)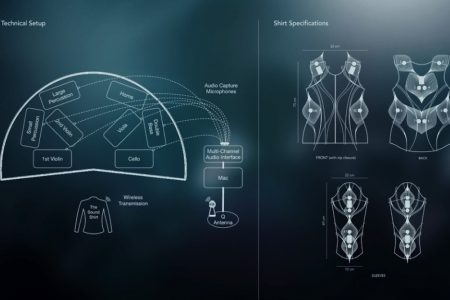 Haptic sensations are transmitted across the torso, arms or chest, depending on the instrument and intensity of playing.
The shirt is made of a soft, stretch fabric with conductive, electrical pathways woven
Decorative elements in the first prototype were precision laser cut appliqués, subsequent versions replaced the appliqué areas with high resolution digital fabric printing in a design mimicking vibration and modulating sound waves.
The design team built on its earlier HugShirt, a haptic shirt that sends and receives hugs. This earlier wearable tech design has concentric circuits digitally printed at strategic 'hugging points' where embedded sensors can be touched by the wearer. Data about the location and intensity of the touch are sent via Bluetooth to the HugShirt app which records the hug and sends it on to the intended recipient's phone. If only one of the separated huggers has a HugShirt, the 'shirtless one' can create a hug with the software and send it to be received in its tactile fullness by their loved one wearing the HugShirt.
As well as mushy youngsters in love, the HugShirt can also be used to dispel loneliness in the elderly or parents separated from their families. CuteCircuits reports that in its development phase, research found that people need to be touched at least 70 times a day, ranging from a handshake to a friendly hug.
Last month's UNESCO event also host presentations around the theme of education, including 'Why, What and How should we Learn in the 21st Century?' and 'An Inspiring Vision for AI in Africa' by Mustapha Cissé, Research Scientist and Head of Google AI Center, Accra.
On days two and three, sessions will address Smart Cities looking at challenges and solutions for mobility, energy, and surveillance in connected cities of the future. The programme has been produced with ESCP Europe, Peking University, Shanghai Jaio Tong University and Télécom ParisTech