Editors Blog – Fill your glasses and drink in sound and vision
The earliest mentions of spectacles to improve the wearer's vision date back to the 13th century. The basic function has remained unchanged until today. Seeing is no longer enough. Caroline Hayes looks at how eyewear can now bring audio and a whole world of social media content creation.
Apart from advances in lens technology (bi-focal and tinted) and changes to the materials to make frames lighter in weight, the role of the spectacle has been constant.
In 2012, Google introduced its optical, head-mounted display, but the market response was lukewarm. Consumer adoption was stop-start but today so-called smart glasses are used in industrial applications (warehouse picking, for example). Facebook is now confident enough to team up with EssilorLuxottica, the company providing lens for Ray-Ban eyewear, to introduce Ray-Ban Stories smart glasses for fashionista-technophile consumers.
Ray-Ban Stories are smart glasses with dual integrated 5MP cameras and wearers can take pictures or record 30 second videos using hands-free voice commands, or a button on the side of the frames.
Within the frame, there are open-ear speakers and a three-microphone array to pick up audio for calls as well as videos. There is also beamforming technology and a background noise suppression algorithm to optimise audio performance.
Facebook and Ray-Ban have collaborated on glasses for social media – Ray-Ban Stories (Picture: Ray-Ban)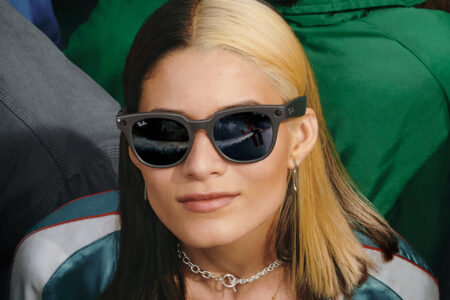 To let people around the wearer know when recording or taking pictures, an LED in the glasses lights up. All content is sent to the wearer's smartphone and the Facebook View app to share content with friends and social media followers.
There is a choice of Ray-Ban styles: Wayfarer, Wayfarer Large, Round and Meteor and in five colours and lenses can be clear, sun, transition and prescription.
Speak up
Now that everyone is expected to be mobile but contactable, Fauna's range of eyewear with audio uses Zeiss DuraVision BlueProtect and Vision lenses in a frames for clear, solid tinted and gradient tinted eyewear.
Fill your glasses and drink in sound and vision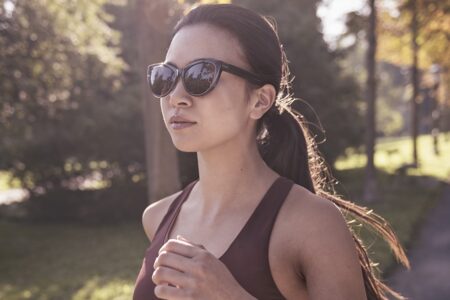 Fauna frames bring audio to eyewear. (Picture: Fauna)
All frames have an audio module in each temple with two patented MEMS electrodynamic micro-speakers, two woofers and two microphones for what the company describes as "crystal-clear sound without major leakage". As well as protecting from sunlight or blue light, an integrated audio module makes them more practical by providing background audio, or to listen to audio books, or the audio of a film the wearer is watching without needing ear buds. This allows the wearer to still be able to hear other peripheral noises to keep them safe. The integrated microphones allow the wearer to make and receive phone calls without diving into a bag or desk to retrieve the handset.
The audio module located at the temple area of the glasses frame. It includes a patented MEMS microspeaker, an electrodynamic speaker, a touch-pad, electronics and a battery. There are two microphones with beam-forming and echo cancelling. The glasses weigh just 50g and are slimline
Sound travels directly to the users' ear without major leakage, says Fauna, so that colleagues, fellow commuters or anyone else nearby will not be able to the music, podcast, audio.
The wearer controls the audio with touch and by swiping the eyewear at the temple points.
The company has recently introduced two models specifically for women – the Levia Black and Fabula Crystal Brown frames. Both of the new models are compatible with iPhone 5 or later and Android 6.0 or later and use Bluetooth 5.0 with a range of up to 10 metres.
Like Ray-Ban Stories, Fauna Audio Glasses come with a charging case, connected to a smartphone or PC via Bluetooth.
Sporty sunglasses
Sedate activities while wearing glasses is one thing but what about sporty types who yearn for smartglasses? Swiss lens manufacturer, Optiswiss has partnered with 3D prescription lens specialist, Luxexcel to create commercial 3D printed prescription lenses to the marketplace for smart eyewear.
Using Luxexcel's VisionPlatform 7, Optiswiss will print lightweight, thin, prescription lenses that can be used in commercial frames.
VisionPlatform 7 uses 3D printing for prescription smart lenses for AR (augmented reality) smartglasses and switchable sunglasses. Using a form factor similar to traditional eyewear opens up the possibility for mass production.
The choice was made on the quality of the lenses but also simplicity of manufacture, says Optiswiss. VisionPlatform 7 replaces multiple process steps in traditional lens manufacturing with a single-step process. Another efficiency is that the hard-coating is part of the 3D printing process.
According to Lucecel, VisionPlatform 7 has all the components required for mass production of prescription smart lenses, i.e., patented hardware, software, materials, processes and technical support.