Editors Blog – E-textiles see material growth
E-textiles can be used in multiple sectors, not just the obvious healthcare and fitness, but also in military, workwear and heated clothing, writes Caroline Hayes
A report by IDTechEx, E-Textiles 2019-2029: Technologies, Markets and Players, categorises key market sectors as medical & healthcare, sports & fitness, military & space, enterprise, personal protection equipment (PPE) & other workwear, fashion and heated clothing) and also lists animal wearables, automotive interiors, motion capture, haptic suits and assistive clothing as segments which have a particular mix of requirements as well as driving factors.
IPC, the design, design, printed board manufacturing, electronics assembly and test industry association, held IPC E-Textiles Europe 2019 this month. The event held in Munich, Germany, was described as being developed by the e-textiles industry for the e-textiles industry, and was an opportunity for those involved in e-textiles, both technologies and products, to gather and share findings on the topic. Its reach was wide-ranging with topics covering fashion design, health monitoring, medical, automotive, aerospace and military.
Presentations covered many areas that are vexing the industry, from integrating sensors into sports and inkjet printing textiles for use in military applications to the reliability and washability of textile-based circuit boards and textile-based embroidered RFID tags for clothing.
The true integration and practicality of e-textiles is the topic of a report by James Hayward, principal analyst at IDTechEx.
He identifies that while there have been commercial efforts around electronic textiles for at least 25 years, components, such as batteries cannot be woven into garments and need to be housed in a discrete box that can either be removed or can tolerate washing, which is strategically placed on the garment. That box is getting smaller and lighter as batteries, transistors, sensors and antennae are shrinking as, so far, the majority of components have only been proof of concept prototypes. So – for now – the box stays (Figure 1).
Figure 1: The Visible Battery Line identifies where hardware is located on textiles. Source and images: IDTechEx E-Textiles 2019-2029: Technologies, Markets and Players.
On the plus side, the box, in theory, can be fitted to different versions of a garment, so inventory is reduced without stifling artistic creativity. Attaching the box, however, requires a reliable, durable connection, usually popper (snap fasteners) or magnetic fastenings.
Simple graphene circuits have been printed directly onto fabric at the University of Manchester, which is also exploring how coating yarn with graphene can be used for electro-conductive textile yarns that can be woven and knitted, but this is still quite a thick ply (Figure 2).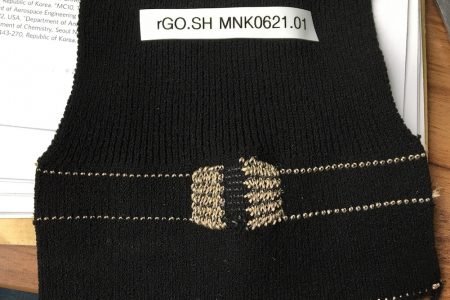 Figure 2: Graphene coated yarn. Picture: Dr Nazmul Karim, National Graphene Institute, University of Manchester
Hayward says that work being done by research teams, at Nottingham Trent University and others) where small components are encased and connected, allowing integration of various sensor types is interesting but unfeasible for larger components, like batteries at this stage.
Reducing the need for larger battery components is the other way to tackle the problem. Reducing the overall power consumption of the system, or by providing additional power to the device via a technique such as energy harvesting or wireless charging, reasons Hayward have been considered by e-textile companies. Many techniques for energy harvesting in e-textiles are academic proof-of-concept to date but work in a more commercial context is also ongoing. For RF charging, inductive charging and other wireless charging techniques, research is ongoing and companies are partnering to develop the technology further.
The E-Textiles 2019-2029 report covers the whole supply chain for e-textiles. This includes materials – metals, polymers and yarns – and components – batteries, sensors and connectors and looks at some of the partnerships that material manufacturers, for example, Du Pont and conductive ink suppliers are forging with electronics companies to develop commercially-viable e-textiles.