Editors Blog – Data, stats and reports are the new sports essentials
Wearable devices can help athletes optimise their performance – and help armchair sports enthusiasts too, discovers Caroline Hayes.
Keeping an eye on team members, Fitogether uses two u-blox GPS modules.
An essential part of training is to measure improvement and record when targets have been met. This can be done by individuals but for team sports, a coach needs to keep an eye on all team members and chart their progress. It doesn't help that the team members are constantly moving around the pitch!
Monitoring devices developed by Fitogether are integrated into back harnesses which monitor heartrate but also the motion and position of players. The OHCOACH cell EPTS (electronic performance and tracking system) is FIFA-certified. It receives data from the Cell sports tracker via one of two u-blox GNSS receivers – the NEO-M9N single-band standard precision GNSS module for metre-level positioning and the ZED-F9P multi-band GNSS module which delivers cm-level accuracy in seconds.
The Cell also includes a 100Hz, nine-axis (IMU) inertial measurement unit, combining an accelerometer, gyroscope and magnetometer) for motion measurement and a Polar OH1/H10 heart rate monitor. The system weighs just 51g and uses Wi-Fi 802.11b/g/n and Bluetooth 4.2 and Low Energy. The Cell is sweat-proof and splash-proof and all the data is managed in real time with an iPad app. The system operates for six hours when using GNSS alone, four hours when using GNSS and live monitoring and 2.2 hours when using GNSS, live monitoring and heart rate monitoring functions.
As well as using data for planning training, playing style and strategies, Fitogether has also said that the connected, real time data analytics can be used by fans, providing real time insights on the performance of each player on the field.
[So now when a spectator shouts abuse at a player for being slow, they can back up it with stats!]
Seeing is believing
At this year's MWC in Barcelona, Spain, head-up display technology company, ActiveLook also made some announcements around optimising sports performance using data. The company announced a partnership with Openrunner to access its eponymous app with ActiveLook's smartglasses.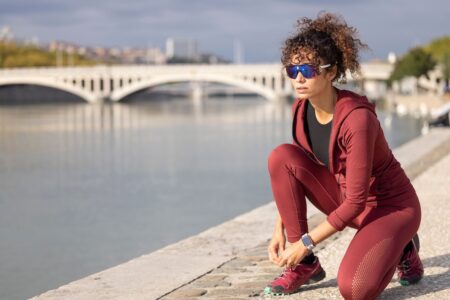 ActiveLook eyewear presents stats and real time data for runners.
The GPS app is the source of over six million maps for running, hiking or cycling trails. It also offers the capability to create or customise routes. The augmented reality eyewear connects to the app to show the wearer routes in real time and literally in front of their eyes, for hands-free operation and no need to handle or try to balance a smartphone while following the route.
Another announcement was with iKinesis, the running app, which uses AI and sensors to monitor, optimise and correct movement – including pronation, foot strikes, speed, propulsion efficiency and cadence – in real time.
As well as improving times, the app limits injury from sustained bias.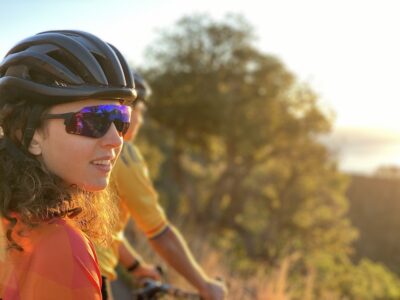 ActiveLook lets wearers concentrate on their sport while viewing performance data.
Eyewear equipped with ActiveLook technology contains an embedded microdisplay which shows data, such as route, speed or heart rate, without obstructing the wearer's view of the horizon. A smart chip integrated into the eyewear sends data to a discrete near-eye display that can be accessed in real time without interfering with the wider view.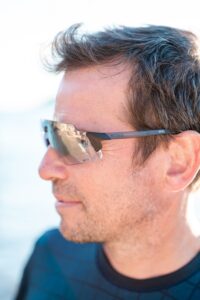 The Engo Eyewear integrates the ActiveLook module.
The module weighs just 6g and is integrated into the eyewear. It is based on a monochrome AMOLED (active-matrix organic light-emitting diode) display with 304 x 256 pixels resolution. The display is readable, regardless of ambient light conditions and consumes less than 1mW which is at least 30 times less energy than competing modules, said ActiveLook. Battery life is more than 12 hours. The module connects to a smartphone, watch or specific sensors (such as a heart rate sensor) via Bluetooth Low Energy.
The French company has also signed up with Suunto, the sports watch manufacturer to link its motivation, safety, real time data app to smartglasses to monitor barometric altitude, route navigation, sports-specific maps and key indicators such as distance and heart rate.
ActiveLook has already collaborated with Engo Eyewear with a day-long battery life between charges. The Engo version features an adjustable nose bridge and temples, 100 per cent UV protection and photochromic lenses and offer gestural control to select the data to display.