Editors Blog – Data in front of your very eyes
Augmented reality smart glasses can free up wearers by who no longer have to hold maps or other data, as images, objects and text are displayed on the lenses. Caroline Hayes discovers there is a concerted effort in the industry to develop lightweight, intuitive eyewear.
Figure 1: AR smart glasses open up a world of possibilities (Credit- EternalCreative)
Gamers will be familiar with the idea of augmented reality (AR) head-mounted displays but increasingly there is interest in using AR smart glasses in enterprise applications, such as warehouse collections as well as in commercial eyewear where AR can be used for directions, maps and other information (see Figure 1. Credit- EternalCreative).
According to ABI Research, the market for AR smart glasses could be worth over $100 billion by 2024. Challenges for developers are to make them both simple and intuitive and lightweight, says Eleftheria Kouri, research analyst at ABI Research.
"The decision around the most efficient input method and UI design strongly relies on the nature of the target task or content, the user's potential environment, and the type of the AR device," she says. Hands-free voice control is one, although eye tracking and gesture recognition are emerging as interaction methods. They allow users to intuitively perform hands-free tasks but they have to be accurate and with low latency to be efficient.
"Simple and intuitive UI (user interfaces) and streamlined UX (user experience) have mostly been ignored in the AR market thus far, but both are essential for enhancing and maximising the value which will propel AR smart glasses growth toward the mainstream," Kouri observes.
Device features such as low weight, the capability for spatial mapping and sound, improved display quality, and better user feedback through UI and haptics will also contribute to efficiency and add value, says Kouri.
Miniaturisation
There was an interesting announcement from TDK which has integrated three colour lasers into a small colour laser module for AR glasses (figure 2). It is designed to replace the bulky and heavy colour laser modules which typically use a mirror and lens for each colour, creating bulk in the RGB module.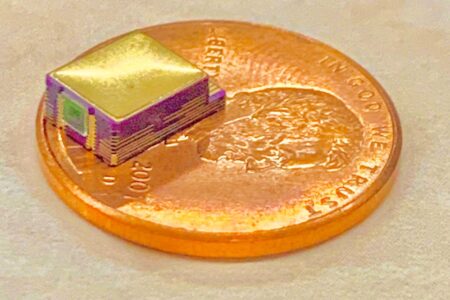 Figure 2: The RGB laser module from TDK
TDK America produced a full colour laser module with red, green and blue (RGB) lasers integrated which when combined create the spectrum of colours, including yellow, purple and white, which are notoriously difficult to produce.
The module measures just 7.6 x 5.5mm and 2.7mm high and weighs 0.35g. In a demonstration, the module was mounted in Retissa Display 2 AR glasses by QD Laser.
The wavelength of the red laser diode at 636nm, the green was at 520nm and the blue was at 455nm. Output power of each colour was less than 5mW.
The module also had a photodetector and a thermistor to monitor the internal temperature of the unit and prevent overheating.
A planar lightwave circuit from NTT was used to combine each colour into one optical path. PLC and bare laser chips. Using TDK's automated technology, the laser chips were transferred and aligned to be bonded to the PLC in approximately five seconds. This automatic process is 150 times faster than conventional modules, says TDK.
High volume manufacture is expected to make the colour laser module fast to market and cost-effective for use in heads up displays in automotive use as well as for projectors.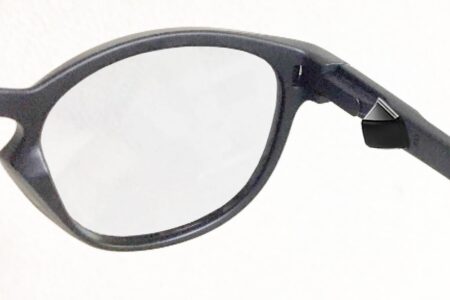 Figure 3: The TDK module in-situ
Samples will be available later this year, with production expected to begin in 2023.
Prescription lenses
There is also interest in developed AR smart glasses for wearers who need prescription lenses.
A collaboration between 3D printed prescription lens provider, Luxexcel and waveguide and light engine manufacturer, WaveOptics integrates a 3D printed prescription lens, a waveguide and a projector into a single module.
The module enables technology companies to manufacture AR prescription eyewear in a normal form factor similar to today's conventional eyewear. The key components of the module can be customised, scaled, and manufactured in high volume with Luxexcel's patented 3D printing platform.
The module has a fully encapsulated waveguide in the curved body of a 3D printed prescription lens. The waveguide remains completely flat, to maintain the image quality, explains Luxexcel. An air gap is created during the printing process and the 3D printed structure provides an accurate mounting for the projector so that it is precisely aligned when assembled into an optical module.
The result of integrating WaveOptics' Katana a waveguide into a 3D printed lens. Katana is claimed to be the thinnest, lightest waveguide available today. It is completely encapsulated by Luxexcel's printed lenses for a lens that is estimated to be half the weight of legacy lenses. The waveguide is also protected by the lens material, resulting in a rugged, dust, and waterproof lens, says Luxexcel.
"About 70 per cent of the adult world population today need vision correction to see their best. Providing consumers with a single device that integrates both their prescription requirements, as well as smart technologies from leaders such as WaveOptics, is a prerequisite in enabling the adoption of smart glasses by the mass consumer market," Guido Groet, chief strategy officer at Luxexcel believes.
Phil Greenhalgh, chief technology officer at WaveOptics is confident that the project, which was shown at this month's online SPIE conference will be welcomed by customers. "This partnership provides a solution for two of the major product planning challenges all of our customers face: how to address prescription accommodation and delivering a robust waveguide in a form factor that can go into a consumer product," he says.
Prototype samples of the module will be available for customers in Q2 2021.
Alliance for AR
Manufacturing equipment, semiconductor, lighting and laser beam scanning companies from around the world to create the LaSAR (Laser Scanning for AR) Alliance. Applied Materials, STMicroelectronics, Finnish waveguide display and IP provider, Dispelix, Osram and Taiwanese laser beam scanning company, Mega1 formed the Alliance to contribute technology and manufacturing expertise to develop and accelerate AR smart glass production.
The aim is for a small, lightweight form factor, with low power operation and good field of view and a large eyebox. The Alliance is based on the laser beam scanning products developed by ST for near-to-eye displays for smart glasses.
ST will provide it low power, laser beam scanning MEMS micro-mirror platform and bipolar-CMOS-DMOS expertise, Osram will provide compact illumination sources while both Applied Materials and Dispelix will provide advanced waveguide elements. All of these elements will be integrated into a small optical light engine from Mega1. These elements can be assembled into AR-enabled smart glasses that are stylish, functional, comfortable and deliver critical application-specific information. The Alliance's mission is to facilitate the development, availability, and support of all key technology elements for rapid AR-enabled smart-glass application creation, adoption, and volume production.