Editors Blog – Adding AI drives the hearing aid market
Bluetooth and artificial intelligence are being used to create a sophisticated, discrete hearing aid, writes Caroline Hayes
A report into the hearing aid market by Future Market Insights (Bluetooth Hearing Aids Market) confirms the popularity of Bluetooth to replace traditional, wired models. The analyst expects an eight per cent CAGR between 2020 and 2030 for Bluetooth hearing aids. Behind-the-ear hearing aids dominate today, but demand for in-the-ear hearing aids is expected to increase.
One of the key players in the market, says the report, is New York-based Widex. It has launched Evoke for use with iPhones, using AI to store user preferences.
Adding AI
The company claims to be the first hearing aid manufacturer to use real-time AI. Since Widex Evoke, launched in April 2018, it has introduced Widex SoundSense Learn, an AI technology in its Moment hearing aids, to gather and store data on the user's preferences and then to automatically adjust based on the input. It uses machine learning to process inputs from hearing aids around the world and shares anonymised data with a cloud-based AI systems to continuously learn optimised hearing aid settings in different situations and for specific individuals.
We tested Widex SoundSense Learn and the Widex Moment hearing aids to see if AI can be used to create a more natural, personalised experience and overcome background sounds, or the 'cocktail party' effect.
We enlisted a hearing aid wearer to put SoundSense Learn and Moment through their paces.
Setting up
The first reaction was that there is a lot of literature to set up the hearing aids. It involved a lots of boxes to unpack, for the small hearing aid, charger and storage, which may put off some older users. Our tester also commented that the Moment hearing aid could be difficult for people with arthritis to handle. Bearing in mind this is designed to be fitted at home instead of in the GP's surgery or medical centre, the system needs to be particularly user-friendly. Another comment was that there was no tab to pull out the batteries, and you have to fit the rubber cap over the antenna; both of which could be awkward manoeuvres for anyone who has trouble gripping.
The Moment hearing aid has an inner and outer part which amplifies more sound than just an in-ear aid. Once out of the boxes and fully charged, and with the SoundSense Learn app downloaded to the iphone, the next step was to establish the initial settings. This was done by a video call and using the app's Remote Link accessory.
Our fitting technician was extremely helpful (and patient) as our 'guinea pig' explained the level of hearing loss. A series of sounds and notes were played and the hearing aid user said if A or B was clearer. Saying which was clearer each time for 10-12 sounds is sufficient data for the SoundSense Learn algorithm to track adjustments and to use other settings stored in the cloud, to tailor the hearing aid for the wearer and meet their hearing loss prescription.
On the iPhone, the SoundSenseLearn app includes a list of suggestions, with options for suppressing disturbances, for concentration and conversation levels, to which the wearer assigns A or B as the preferred sound profile to build up a profile and to help the app learn what the user will need.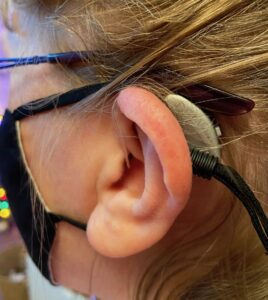 The ultimate design fit: Widex Moment can be worn with glasses and a face mask with ease.
The Moment hearing aid uses a Li-Ion rechargeable battery, claimed to be the first available on the market. This reduces the size of the outer hearing aid and allows for the user to be able to comfortably wear a face mask as well as the neat inner and outer ear pieces.
Review in lockdown
Our trial was conducted on an older model iPhone but the performance was generally good. Lockdown was still in force, so there was little opportunity to try it out in busy pubs or restaurants, but when one a bus and wearing headphones, the response was "a good performance". There was no marked difference reported from a conventional hearing aid when the researcher was in a room with a radio on in the background, and the noise of a fan was not filtered out.
During the pandemic, where FaceTime calls were frequently used to keep in touch. Widex Moment's connectivity to a phone caused a few problems, with FaceTime calls leading to the audio only being available in-ear, so others cannot participate in the call. Our researcher wondered if there could be a control option to disconnect Bluetooth in such circumstances.
A design improvement suggested by our researcher is an indicator to show if each hearing aid is on or off. There is an audible on-off signal, but our researcher pointed out that if you can't hear very well, audible is not practical.
A visual indicator that the hearing aid is on as soon as it is removed from the charging case would be useful, suggested our guinea pig. She had visions of leaving it on, say during a commute to work, only to arrive and find the battery is depleted. Another mild frustration that the carrying case is designed so that the ear pieces stand proud, which does not allow charging on-the-go. Again, being able to charge while commuting, for example, would be a benefit. A back-up battery was another suggestion.
SoundSenseLearn
The SoundSense Learn app is an exciting advance for hearing aid users. It has three setting, Pure, Universal and Music. The universal setting is for static environments, our tester used the pure setting the most and noticed the changes when watching TV, as the hearing aid adapted. Learning about the audio environment around you and constantly adjusting the hearing aid to improve performance takes on the brain's own mechanisms to adjust, although the human brain can compensate for hearing loss, whereas this app modifies its performance to adapt to those changes.
We tried to encourage another hearing aid wearer to test, but at 83 years old she was a bit daunted by the technology of remote fittings. Even though the walk-through was very easy and she is a fairly tech-savvy iPad and iPhone user, she was uncomfortable about the remote fitting. Our tester also pointed out that having to switch settings when in new environments may draw attention to hearing loss and could be awkward in social settings.
Another worry was having to agree for the app to access the phone's images and contacts. It was asked why this was necessary; but could not establish the answer.
AI for Android
Widex has announced that it will introduce an Android-compatible version of SoundSense Learn, later this year.
Top Image – The Widex Moment hearing aids, fitted with rubber ear guards, in the carrying case.