Editors Blog: A growth sector – for those with skin in the game
Smart or electronic skin is attracting a lot of attention as technology improves and applications multiple in different markets, writes Caroline Hayes.
The first question to address is what is electronic skin. One definition is a fabric, covered with sensors which can be used to enclose a robotic arm. More common, are skin patches which use conductive ink as the circuitry to connect sensors, actuators, processors and communication devices. They can be used in cardiovascular monitoring, diabetic management, temperature, respiration, blood oximetry and humidity/moisture monitoring, as well as muscle simulation and sensing. They can also be used in detecting abnormalities in the brain or administer precise doses of medication to targeted areas, for example under other dressings which need to stay in place.
As well as medical uses, they are increasingly used in sporting and healthcare applications, where they can measure heart rate, glucose levels and other parameters, linked to a smartphone app, to record heart rate and other indicators.
According to Global Market Insights, the electronic skin market was more than $6bn in 2019 and is predicted to grow at over 14.4 per cent compound annual growth rate (CAGR) from 2020 to 2026.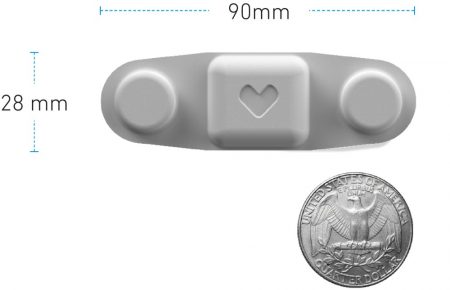 VivaLNK's wearable sensors are lightweight and water-resistant
This extraordinary growth is likely to be encouraged by the advances in flexible, stretchable and conformal electronic components to reduce the bulk of the skin patches to make them easier to wear. Performance improvements will also mean that they can be worn for longer periods of time for continuous monitoring. Improvements in the design will also allow more electrodes, or longer electrodes to be integrated which will allow the skin patch to be used in more locations with reliable feedback.
In skin patches, the stretchability of the conductive ink is still limited. In its report on the electronic skin market, Global Market Insights pointed out that there is still work to do, including adhesion to stretchable substrates for a flexible skin patch. Other areas that need to be addressed to increase adoption are engineering patches to ensure they are able to withstand harsh hydrogels and increasing the conductivity levels to enable the skin patches to pick up weak signals.
One of the main drivers for market revenue which was close to $4.3m in 2019, is the use of electronic skin patches in cardiovascular monitoring and diabetes management via continuous glucose monitoring (CGM). The same glucose monitoring can be used for fitness tracking, fever monitoring and fertility monitoring, which is likely to attract a lot of consumer interest.
A photovoltaic layer
Patches have to be always-on to gather and transmit data which can be a drain on the power source. There is a lot of research into a battery that does not add excessive bulk or weight to a patch.
Most of the research is focused on flexible, thin or printed batteries. An interesting development is the addition of photovoltaic (PV) systems in skin patches. A PV layer charges the skin patch for self-powered systems, overcoming one of the limitations of a conventional electronic skin patch which needs a constant power source to access the IoT.
The Global Market Insights report credited PV systems with over 13 per cent of the global market in 2019.
Another component is electrophysiological sensors which are used to monitor chronic diseases and also for restorative therapy for trauma patients.
Electrophysiology sensors measure the electrical properties of biological cells and tissues and changes in voltage or electrical current in organs. Here, developers have to overcome issues using conducting gels as these can cause skin irritation and short circuits between electrodes.
If electrode arrays can be printed on flexible substrates, the electrophysiological can be placed directly on area for stimulation. The same patches of printed electrode arrays may open up further areas of healthcare as the electrode array may maximise the contact area and gather information on a precise area by activating specific muscle groups for analysis.
As the world experiences an increase in chronic ailments, partly due to an ageing population, the electrophysiological sensor segment is the largest in terms of sensor type. It was valued at over $2,12m in 2019. North America industry is expected to grow at a higher growth rate throughout the forecast period (2020 to 2026) and is projected to exceed $6bn by 2026.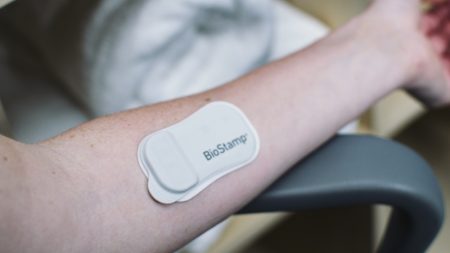 The BioStamp nPoint sensor is designed for application on 25 areas of the body.
An early use of wearable sensors was in China during the SARS (severe acute respiratory system) pandemic at the turn of the 21 st century. Today companies like California-based VivaLNK and Massachussets-based MC10 are providing wearable sensors to help combat Covid-19.
VivaLNK's wearable sensor are used for temperature, pulse, respiratory, ECG and accelerometer readers. The lightweight (7.5g) and reuseable/rechargeable sensors are water-resistant and FDA/CE marked. The US company says it has supplied its wearable sensors to China, the Americas, Europe and the RoW.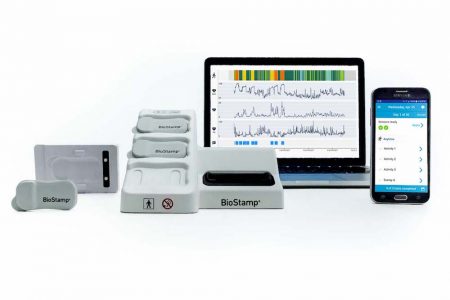 BioStamp nPoint is part of a suite of sensors and apps
MC10's BioStamp nPoint wearable sensors are also rechargeable. One or more can be worn simultaneously, placed on 25 validated locations on the body. The company's proprietary biometric algorithm interprets physiological data. The sensor has an accompanying smartphone app and can be wireless charged. Last year, MC10 announced a collaboration with the University of Rochester that the company will collaborate with the University of Rochester in New York to develop digital biomarkers for the treatment of diseases associated with central nervous systems.