Editor's Blog – A flexible approach to sensors
Wearable sensors are convenient and gaining in popularity, fuelled by advances in manufacturing, says Caroline Hayes
Wearable sensors have gone beyond step counters. Today's sensors can monitor other parameters and enable remote patient monitoring. In addition to making healthcare easier to access, IDTechEx's technology analyst, Tess Skyme, says that innovations in wearable sensor technology are meeting demand for consumer applications too.
In addition to providing easier access to health data, consumer market designs integrating sensors into headsets and accessories could lead to immersive experiences in entertainment venues and the wider metaverse.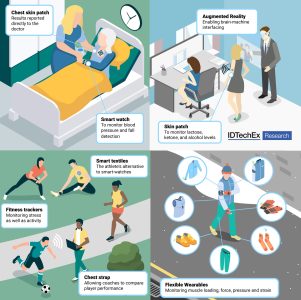 Uses for biosensors and flexible hybrid electronics in healthcare. Picture: IDTechEx
Sensor variants include inertial measurement units, optical sensors, and chemical sensors for vital signs, stress, sleep and even brain activity for sports injuries and emergency service paramedic assessments.
Motion sensing hardware is well established, says Skyme; accelerometers are integrated into almost every wearable device. Smartwatches, for example, are looking beyond sensors to gather data about heart rate or blood oxygen, calories burned and sleep quality. Now they are being used with software to analyse photoplethysmography (PPG) signals to assess the blood flow for cardiovascular or vein health. They are also being used with new hardware for spectroscopy to assess electromagnetic radiation.
Flexible hybrid electronics offer a stretchable substrate and circuits which can be more flexible. They use sensors and other components which can be printed to be more flexible. The use of conductive inks which are stretchable or can withstand bending, enables a shorter bending radius and ability to stretch. This flexible – and potentially stretchable – form factor lends the circuitry to use in electronic skin patches and textiles for a comfortable, closer fit which is less bulky than substrates with rigid boxes – however small – containing electronics. The prospect of printing circuits on flexible substrates opens up a world of design possibilities.
Sensor Materials
Exploring the scope of new applications has led to a focus on materials for wearable sensors, in particular conductive materials, including wet electrodes which can be stuck on the skin to measure the heart and dry electrodes in headphones to analyse brain signals. Another use of dry electrodes is microneedles within skin patches to quantify muscle movements.
There is research into chemical sensors which can monitor glucose levels without finger pricks, for example, although these are still some way off for this particular application but is showing potential for biometric wearables monitoring hydration, alcohol and lactation levels.
Gearing up for production
It is vitally important for manufacturers that each device is effective, cost-efficient is of a high quality, says Rick Ramos, marketing and sales engineer at Eastprint, which designs and manufactures membrane switches. (The company was acquired by East West Manufacturing, a printed electronics company, in April 2023.)
To cost effectively mass produce wearable biosensors (main picture), vertical integration and assembly operations is key, says Ramos. Manufacturers which can print conductive inks on flexible substrates and convert them into surface mount components have a distinct advantage.
Screen-printed-tungsten ink on polythene tape with electrode-biosensors. Picture: Eastprint
Process capabilities could include lamination for medical grade hydrocolloids, adhesives, or non-woven and foam layers, hydrogel dispensing and or placement and final packaging. Attention also has to be paid to connections on the non-patient side of the patch. All of this has to take place using 0.010 inch or 0.254mm diameters via hole print filling to ensure continuity between skin contact and communication device.
Process for manufacturing biosensors uses screen printing of conductive inks, for example silver, silver-chloride, carbon, zinc, gold or dielectric, laser cutting, lamination, and adhesives.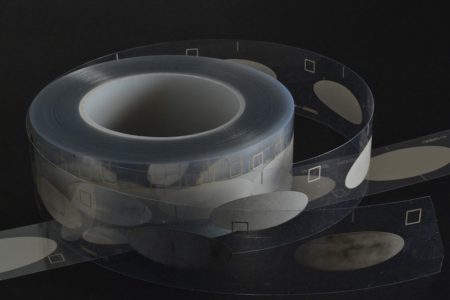 Silver-silver chloride ink electrodes screen-printed electrodes-biosensors. Picture: Eastprint.
Converting processes can include die-cutting, lamination of medical grade foams and adhesives, the dispensing and placement of medical grade hydrogels and final packaging. Although surface mount is desirable, printing is also used for through holes methods, where up to six layers may need to be connected.
In addition to circuit or electrode printing, companies need to be able to offer oven drying or UV curing after each print pass of the process. The number of print passes can range from two to five, notes Ramos.
In manufacture, a combination of SRD (spin rinser dryer), rotary, match metal and laser may be used.
Carbon inks can be transferred onto the back of the substrate when multiple ones are stacked or rolled. A slip sheet or interleaf can prevent the ink rubbing off. The facility should also be able to make routine in-process measurements to ensure the material conforms to agreed dimensions, ink thickness and electrical specifications.
Other processes are laminating and adhesives. It is possible to skip the lamination process, advises Ramos, and instead die cut individual sensor circuits which can be installed into an injection moulded plastic microfluidic cartridge or cassette.
Fabricating custom membrane switch technology applications includes high performance screen printed electrodes (SPEs) and biosensors, which can be complex and sensitive.
"SPEs have improved significantly over the years in terms of their material properties, including simplicity, disposability, and rapid response times," says Ramos.
Precision printing, processing and product development have advanced medical and diagnostic electrochemical biosensor products, said Ramos.